On the trail of Black Grouse in Galloway…
Guest blog by RSPB's Ed Tooth, Black Grouse Project Officer – Galloway Glens
Spring is well and truly here. It's absolutely the best time of year to be up and about at daybreak. The forest edges of the Galloway Forest Park are now ringing with endless trilling of Grasshopper Warbler or the unmistakable song of the Cuckoo. But, there is one bird, arguably one of the most iconic of all Scottish birds, that is becoming harder and harder to find; the Black Grouse.
Across almost their entire range, from the west coast of Scotland to the Sea of Japan, they are in decline. Changes in habitat due to forestry or agriculture mean that suitable areas for Black Grouse are disappearing fast. Here in Dumfries and Galloway there were just 50 lekking males recorded last year, down from a peak of nearly 200 in 2011. If things continue as they are then they won't be around for much longer.
However, there is hope! As part of the Galloway Glens Landscape Partnership, the RSPB and Forestry and Land Scotland are working together to improve the condition of the habitat for the remaining Grouse. In my role as Black Grouse Project Officer, I am writing management plans which will provide advice and guidance using the latest research, and co-ordinating lek surveys to enable us to target the management appropriately.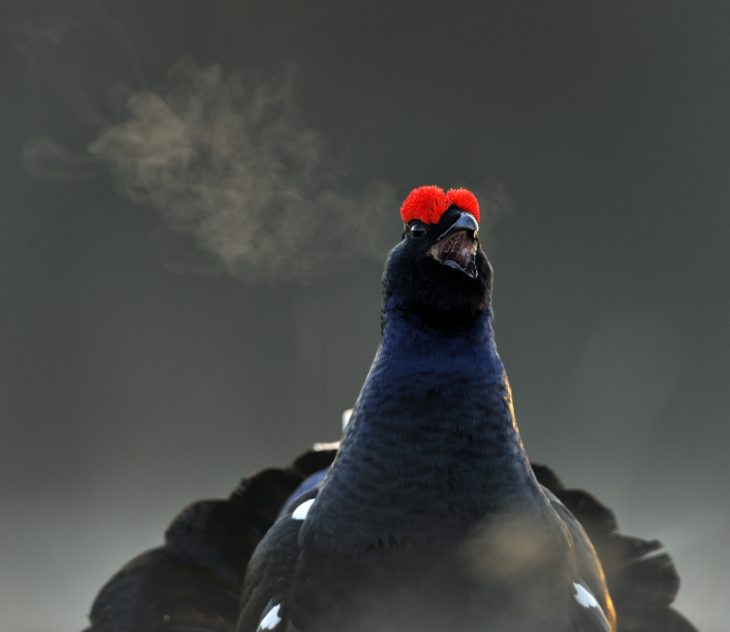 Black Grouse require a complex mosaic of habitats; wet and dry heath with a varied sword structure for nesting, insect-rich damp areas for brood rearing, herb-rich areas to provide food for adults and native broadleaved woodland fringe for shelter and food during the harsher winter months. This requires a certain amount of active management, for example through, grazing, tree planting, heather cutting and drain blocking. It is these methods and more that we will be looking to implement to realise a long-term vision of a sustainable Black Grouse population in Dumfries and Galloway. It is also worth mentioning that this sort of management will benefit a host of other species, such as Whinchat and Nightjar.
Peak lekking season is nearly coming to an end, but male birds are still out singing and strutting their stuff in the hope of attracting a mate. These leks will occur almost year-round, but the breeding season (April/May) is when the action really hots up. Once lekking is over, the birds become reasonably inconspicuous, but it is still possible to occasionally stumble across one. If, whilst you're out and about, you do happen to see one, I would be most grateful if you could send the record to me, with at least a six-figure grid reference. My email is ed.tooth@rspb.org.uk.
I have had a wonderful team of volunteers who have endured some very early mornings to cover the Forest Park this spring, and the early results appear promising; stay tuned to the Galloway Glens Landscape Partnership website for the full results soon. If you are interested in helping and don't mind an early morning or two, then we will be doing it all again next year, so feel free to get in touch.