Dumfriesshire Botany Group at Hollows, Langholm 28/03/2018
The first meeting of our new Dumfriesshire Botany Group was held on Wednesday 28th March when 6 of us gathered at Gilnockie Bridge, Hollows on the river Esk south of Langholm. This was an early meeting and given the long winter and late Spring not many plants were yet in flower even in this relatively sheltered location. The aim was to record in tetrad NY37Z which includes Hollows and Claygate.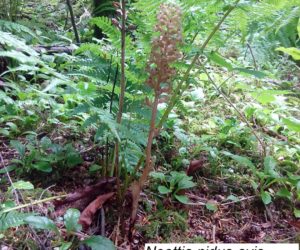 The river cuts through a small rocky gorge at the bridge and is worth exploring a little later in the year. Along the river north and south of the bridge are steep woody banks which have a good ribbon of largely natural woodland that has some non native species planted in. There are more extensive planted woodlands away from the river. The Byre Burn cuts in from the east and has created a deep valley with some rocky sections and a water fall. Away from the river the land is cultivated mostly for pasture. The old railway from Carlisle to Langholm passes through the area but is not always evident on the ground.
After introductions we walked along the small road on the east side of the river towards Cannonbie. We realised that identifications were going to have to be largely based on vegetative characters where they existed. We started to see good woodland indicators like Wild Garlic  Allium ursinum and shoots of Bluebell or Wild Hyacinth Hyacinthoides non-scripta. I was able to point out some dead seed heads of Bird's-nest Orchid Neottia nidus-avis that I had seen last autumn. Kath found some more spikes nearby. This is a saprophyte that has no chlorophyll itself but grows using nutrients taken from the roots of certain trees. Here it is likely to be on Beech, Sycamore or Hazel. It is hard to find being light brown when in flower. There are very few records of this species for the County which is currently only also known from Langholm (picture from 2016).
I pointed out the dead remains of Wood Vetch Vicia sylvatica in the only location I currently know it. It was just starting into growth. We looked at the differences between grasses, sedges (Carex sp) and woodrush Luzula without flowers. Sedges generally show the threemerous growth pattern when viewed from above and Luzula the white hairs on the edge of the leaves (though not always on old leaves)! We were able to determine the very large leaves of Pendulous Sedge Carex pendula which is probably native in this corner of the County and two other old woodland sedges, Wood-sedge Carex sylavtica like a mini pendulous sedge and Remote Sedge Carex remota with narrower grass-like leaves .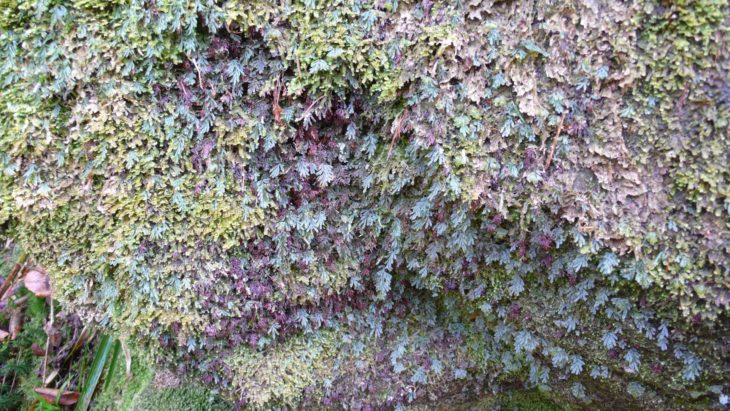 Given the area is moist and there are rocks and ravines ferns are a feature and grow well here. Many retain their leaves through the winter and are more visible before the flowering plants get going. We saw Hart's-tongue Asplenium scolopendrium with whole leaves, Maidenhair spleenwort Asplenium trichomanes ssp. quadrivalens on walls, Common Polypody Polypodium vulgare an epiphyte on trees, Hard Fern Blechnum spicant similar looking to Polypody but growing on the ground and Hard Shield-fern Polystichum aculeatum.
Star find of the day was another fern. This was Tunbridge Filmy-fern Hymenophyllum tunbridgense.  This is more like a moss than a fern. There was an old record for this near the Fairy Loop falls in the Byre Burn glen. It had not been recorded though since 1962 and had thought to have been lost in the harsh 1963 winter.  However it has survived in a couple of small patches. It differs from the more 'frequent' (though all are good finds) Wilson's Filmy-fern in being more pendant and bluer in colour.
During the day, cut slightly short at 3 by heavy showery rain, we recorded 78 species, only 6 or so in flower. A further good find was Meadow Saxifrage Saxifraga granulata, leaves only, growing beside the Byre Burn, not seen in NY37 since 1969.
Chris Miles
BSBI county recorder for Dumfriesshire VC72 – see bsbi.org/dumfriesshire